Trace and Draw Projector Toy for kids
---
Baby loves graffiti by nature, letting the baby develop creativity in all aspects of creation.This toy enables your child to express themselves artistically.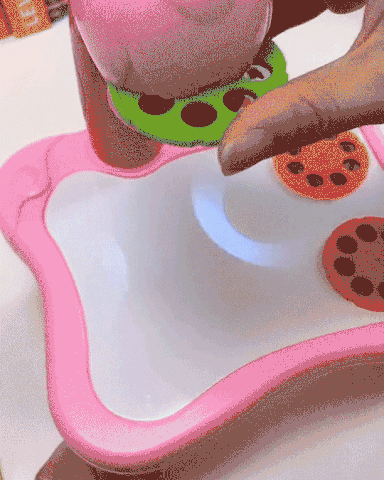 😍The Painting Projector is a fun and easy way to draw! Turn down the lights, switch on the projector, insert a preprinted slide and trace away. Then colour in or paint the picture.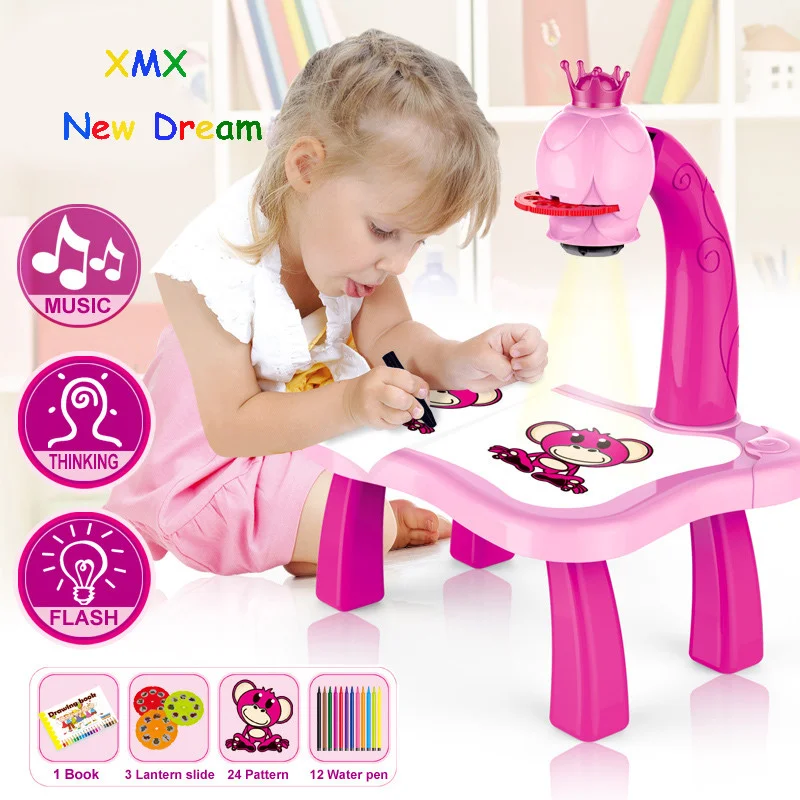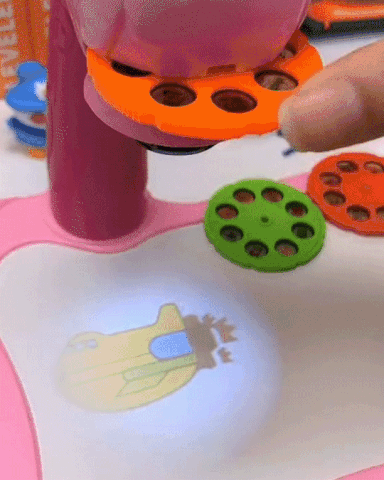 Kids can draw based on the pattern projected by the projector on the table or on the drawing book
Includes 3 pcs projection slides and each slide has 8 different patterns (24 patterns in total)
With music to attract kids attraction to stay longer to write and draw
Develops color perception and imagination ability and increases baby's interest in painting
Trains your kid to use coordination between hand, eye, and mind

Features:
Attractive and durable intelligent toy, modern and elegant in fashion, light projector innovative technology.
This electronic projector will projects images that your child can paint along the picture. Make play time fun with this cute Educational projector, this will help and encourage children to learn draw, paint and trace while having fun
Make play time fun with this cute educational projector, this will help and encourage children to learn draw, paint and trace while having fun It's a intellectual toy, which not only could improve children's ability of practice, but also a game play.
Make a great gift. Recommended for ages 3 year and up.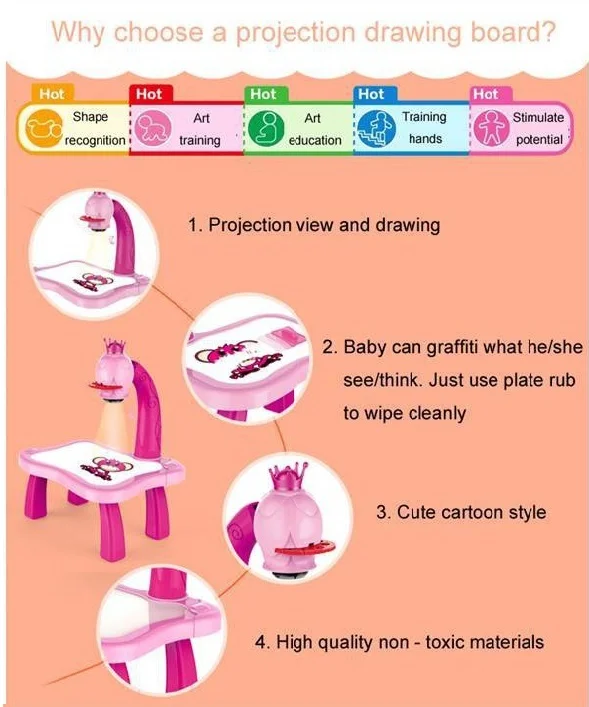 Package size:38.4x28.4x6cm
Battery: 3pcs AA batteries( Not included)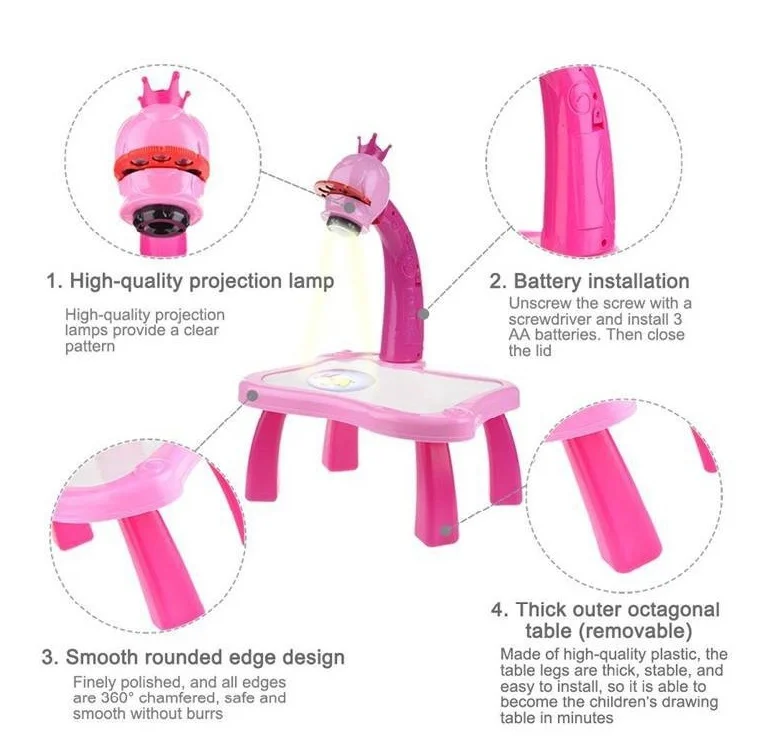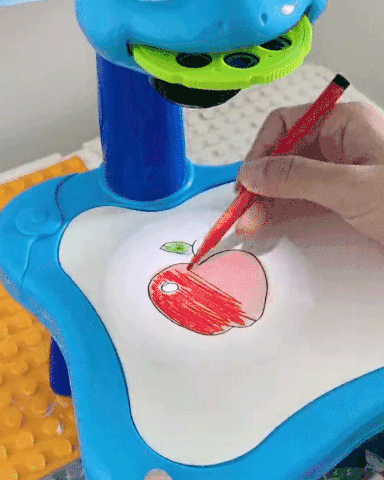 Package include:
1 x Table
3 x Pattern Slide
1 x Eraser
1 x Blank Drawing Book
12 x Painting Pen

Specification:
Material: plastic
Size: 25 x 21 x 35cm
Battery: 3 x AA battery (not included)
Available Color: pink, blue
WHAT PEOPLE ARE SAYING ABOUT PRETTY LITTLE WISH
"My wife actually had a great experience with the covers. For the price, I am surprised at the quality! I highly recommend this product if you are looking for a protective cover that looks amazing!"
⭐⭐⭐⭐⭐
"PLW was different I will buy in the future again. The cover is so soft and comfy. Took no time at all to put on. No instructions needed and it fits like a glove"
⭐⭐⭐⭐⭐
"This sofa cover is amazing. it looks fantastic! This made my living room look like I had done a make over. My neighbor was amazed - her first comment was WOW - now you don't need to buy a new recliner. This one is perfect for your Living Room!"
⭐⭐⭐⭐⭐
Pretty was Fast Shipping And Very Good Customer Service That Keeps You Up To Date With Your Order. I emailed them and got a response the same hour.
⭐⭐⭐⭐⭐
SATISFACTION GUARANTEE
We stand by our high-quality products and your satisfaction is guaranteed.
SECURE CHECKOUT
Pay with the world's most popular and secure payment methods.
GREAT VALUE
We offer competitive prices on all of our exclusive products.
FREE WORLDWIDE DELIVERY OVER $49!
We proudly offer Free Shipping on us when your order value is over $49. Handling time 1-3 business days. Estimated delivery between 5-10 business days.
PRETTY LITTLE WISH MADE WITH LOVE 🥇
It's our mission to redefine your living room, dining room, and bedroom by creating amazing covers at prices that don't break the bank. 🥇
Buy Now